Agriculture
together we create
from the field to your
dinner plate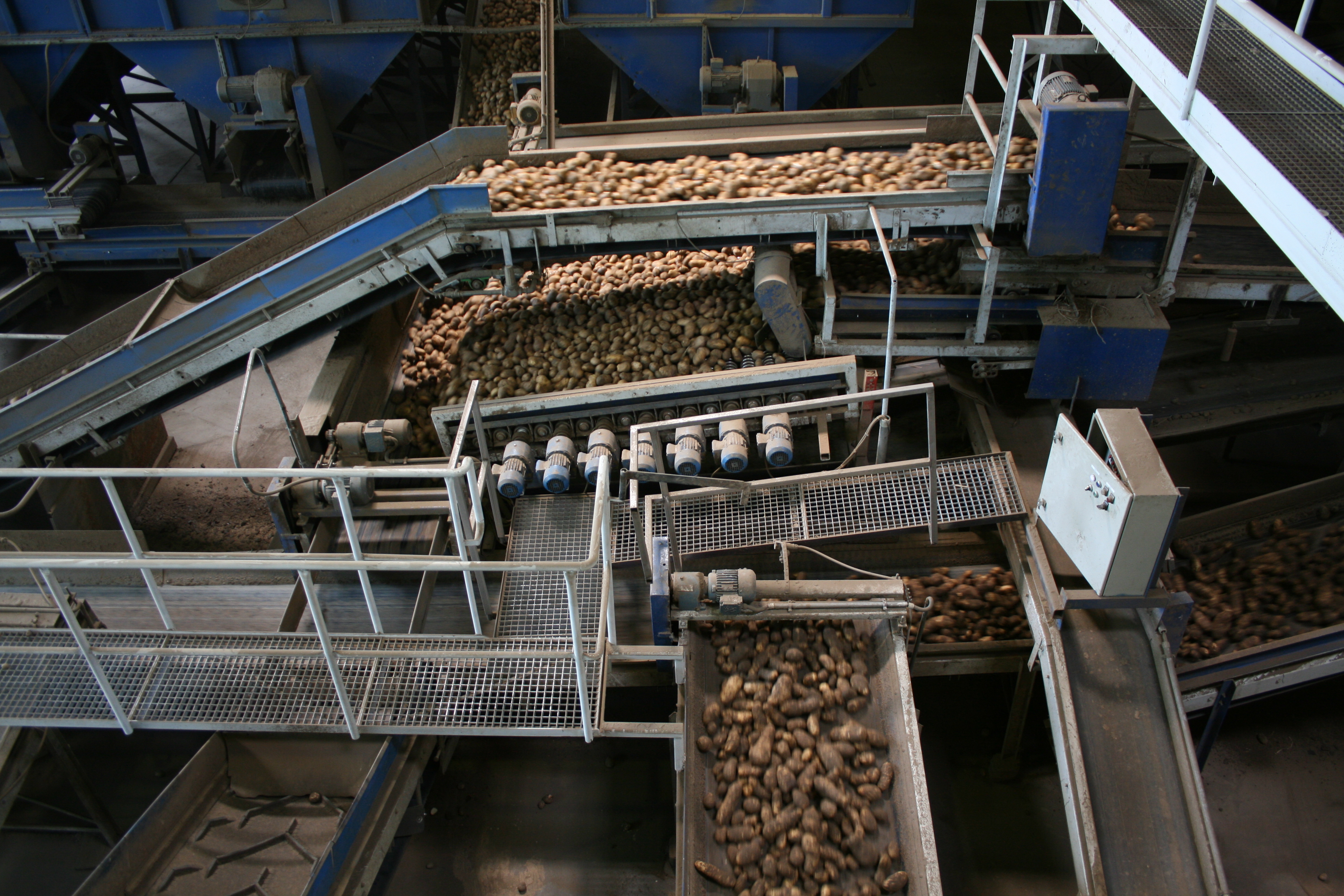 Conveyor belt for agriculture and livestock

The conveyor belt in the agricultural industry
Conveyor belts play a vital role in the growing, harvesting, processing and storing of various agricultural and forestry products. They contribute to sustainable, efficient and careful processing and they have to be able to withstand various conditions. We provide the right solution for this with our conveyor belts.
We supply rubber and synthetic conveyor belts with the right accessories for companies who develop machines on a global scale for, among others, potato, beet and vegetable techniques, but also high-end installations for (automatic) feed mixing. The conveyor belts have to be of high quality for reasons such as a high and dynamic strain, pollution from the soil and product remains, fluctuating temperatures and humidity.
That's why we develop conveyor belts for highly critical applications including in the open air. One might think of examples such as abrasive applications, high belt speeds and small pulley diameters. Applications that often fall outside of the standard technical specifications, where we go beyond standard due to co-creation. For this purpose, we make use of our collective internal expertise, machine park/production process and A-grade base materials in which we make no concessions. Basically, we value quality above price. Furthermore, we provide on-site support in the field if necessary.

From our experience, we are happy to help you select the right conveyor belt for your machine and application.
The conveyor belt is important for the agricultural and livestock industry. What are the requirements for the various sectors?
Agro
Throughout the agricultural industry, you come across conveyor belts. It is an indispensible part of modern business management. The conveyor belt for agriculture has to meet specific demands. Something that also applies to livestock and forestry. Would you like to learn more about these specific demands? Then please continue reading.
Arable farming
The harvest, storage and transshipment of arable products place high demands on conveyor belts. The potato harvest, for example, puts a lot of strain on the belts, and then there's also pollution by soil and plant remains. That's why rubber conveyor belts are used in this specific instance. Chevron profiles or carriers ensure an efficient transport of the products. Conveyor belts for wheat are often V-shaped. Synthetic conveyor belts may be a good choice for store loaders, since they are lighter. This allows them to operate at a greater range.
Fruit and vegetable production
Weather conditions should have no ill effect on the reliability of the conveyor belt. Because, when it's harvest time there simply can't be any delay! This is one of the factors that determines the selection of the right conveyor belt. And that conveyor belt comes with the right components such as wavy edges and carriers. The specific components are of course dependent on the product to be transported. Vegetables and fruit are relatively fragile. So matters such as movement on the belt and drop height play a major role in the transport of vegetables and fruit.
Forestry
Shredded wood, bark, logs: in forestry there are many different uses for conveyor belts. Those belts should, however, be able to withstand some rough handling. They usually also have to transport heavy duty materials. Which means friction is a topic. Enough friction to ensure that the belt doesn't slip. But not too much friction, in order to prevent wear and loss of energy. And again, we of course want to be able to rely on a dependable conveyor belt in all weather conditions.
Livestock farming
It starts with the supply of feed to your livestock, and it ends with the packaging of the final product. The conveyor belt is present in all steps of the modern livestock farming process. Silage grass will behave differently on a conveyor belt than, for example, compound feed. Not only mechanically, but also chemically. So they both require different types of belts.
Automation of the agricultural industry and the conveyor belt
If there is one industry that's constantly changing, it's Agro. A previous major revolution was mechanisation. And automation is the next one. Due to automation, we can be much more accurate in the dosing of feed and fertilisation.
In general, it generates higher efficiency and it counters loss of production. Which is of course a huge benefit in economic terms. But it also contributes to the sustainability of the agricultural industry. The conveyor belt that are used in agriculture have become high tech products.
In an automated environment there are various important topics, including:
precision

the proper use of components

operational safety

reliability
That's why LBS is your perfect partner in the design process and in the production of the conveyor belt. But also in service and maintenance.
Together we create
A conveyor belt that's the perfect link in the business process will hardly ever come straight from a catalogue. The belt has to solve a problem for the user, not cause a problem. Every Agro business is different. That's why LBS is not simply a 'supplier of conveyor belts'. We create it together.
The cooperation with the customer starts at the design process. Are we able to confection a belt from our range for your specific application? No? LBS has a lot of in-house knowledge and a lot of experience in developing new materials. LBS works closely together with suppliers of semi-finished products and with machine builders to achieve the best and most reliable solutions. LBS will also gladly be you partner for the maintenance. Following the delivery, we continue to feel involved.
Together we create – are you interested? Get in touch with us now! Call us at +31 (0) 591 668 220, or use the form on the contact page.
Industries
Together we create
from the field to your
dinner plate
For the transportation of potatoes/onions, we have our Ecocleat® cleat with its special design, which ensures that these products are less likely to get damaged. Ecocleat® uses the same vulcanisation process as Hotcleat®.