Conveyors and roller conveyors are integral to numerous industries, including production companies, warehouses, logistics systems, and parcel processing, among others. Within these systems, synthetic rollers play a vital role as part of roller conveyors and conveyor belts. Let us delve into the applications and properties of plastic rollers in more detail.
Synthetic Rollers in Roller Conveyors
Synthetic rollers offer significant advantages in roller conveyors. Despite their lightweight nature, they exhibit excellent load-bearing capacity. Additionally, synthetic rollers are often more cost-effective compared to their steel counterparts, making them an attractive option. These rollers are known for their quiet operation, extended durability, and resistance to wear and tear. The dimensions of synthetic rollers vary based on the diameter and width of the conveyor belt.
synthetic rollers with bearings
A synthetic roller with bearings consists of a plastic tube that rotates over a steel shaft, supported by bearings. The bearings ensure that the roller rotates smoothly. This reduces the deterioration of the roller and thus extends its life. Bearing synthetic rollers are designed to carry heavy loads. They are available in different variants, made of different types of synthetic, such as polyethylene, polyurethane and nylon.
There are different types of bearings suitable for use in plastic rollers with bearings: ball bearings, needle bearings and plain bearings, among others. The choice of bearing type depends on the application and the weight of the load on the roller.
Plastic rollers with bearings are often used in the packaging, food, pharmaceutical and logistics industries. The rollers are suitable for high-speed conveyor belts. Plastic rolls are also very applicable in wet environments, as they are highly resistant to moisture.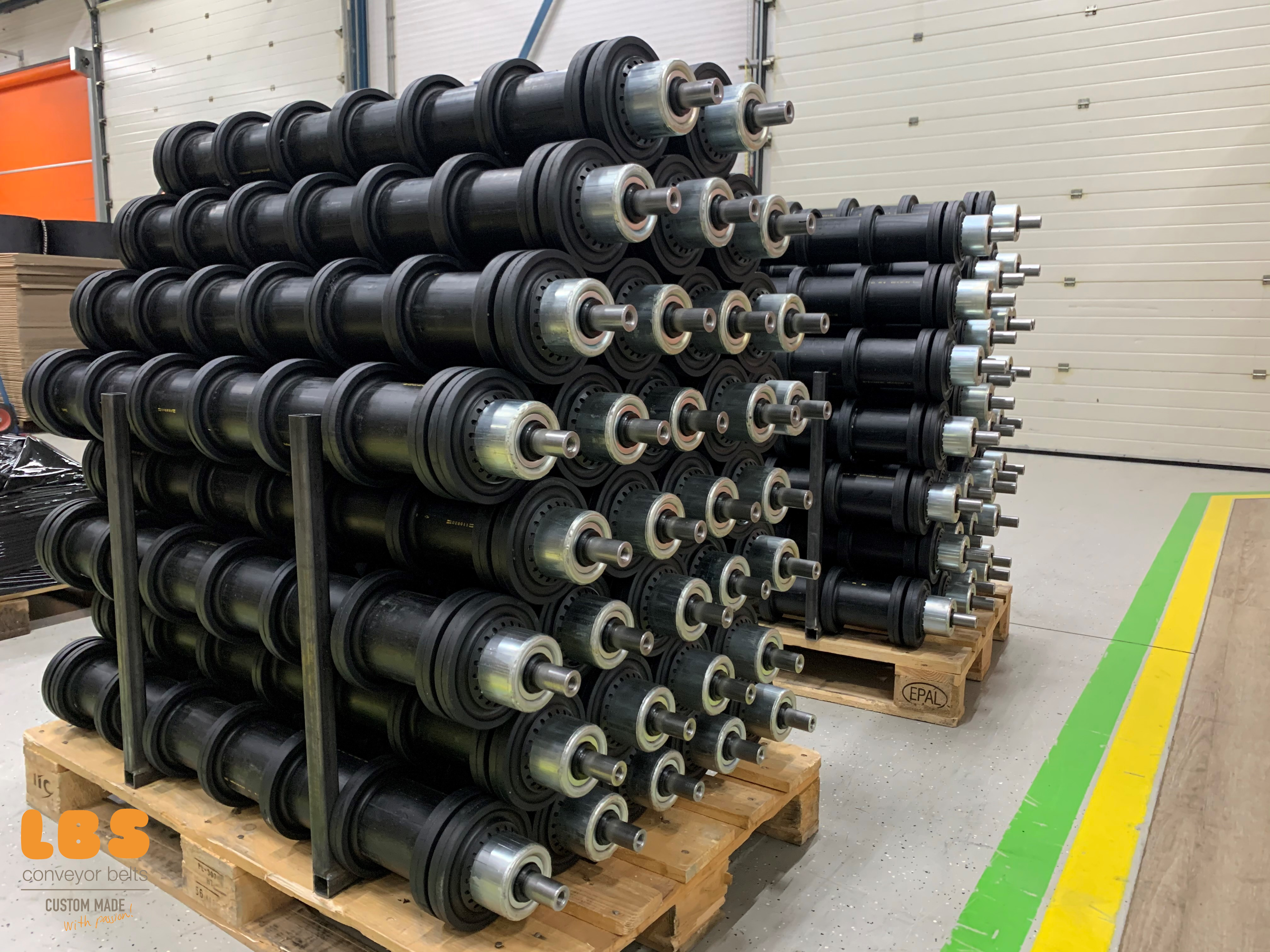 Advantages of synthetic conveyor rollers
We already mentioned two main advantages of synthetic rollers with bearings; the lightness of weight, compared to rollers made of steel or other metals, and the price advantage compared to metal rollers.

Synthetic rollers are particularly used for lighter or fragile products on a conveyor belt. They have many advantages to offer; synthetic rollers are a lot lighter than steel rollers, as well as being quiet and easier to maintain.

Synthetic rollers are perfect for:

Logistics
Industry
Trade

For example, they generally require less maintenance than rollers made of metal. This is because they are less prone to corrosion and wear. However, regular cleaning is recommended: to remove dirt and dust to keep the rollers running smoothly.
There are various types and sizes of synthetic rollers available
The number of different types and sizes of rollers is large. Steel, plastic, UHMWPE or stainless steel transport roller tube and a steel or stainless steel shaft. Which type and size is most suitable depends on the application and the required load capacity. We give some examples of commonly used rollers:

Carrier rollers
Conveyor rollers
Under-rollers
Conical conveyor rollers
Powered conveyor rollers
Synthetic rollers by LBS
LBS is a specialist in manufacturing conveyor belts and associated products. We produce customised conveyor belts to cater to various applications and industries. With our state-of-the-art machinery and equipment, we are capable of delivering tailored solutions.
In addition to conveyor belts, we offer an extensive range of components. Alongside plastic rollers, our offerings include scrapers, corrugated edges, drive and turning drums, and much more. You can explore a comprehensive selection of conveyor belt parts on our parts overview page.
At LBS, we prioritise quality and work diligently to ensure customer satisfaction. Our collaborative approach allows us to meet your specific requirements effectively. If you have any queries about our synthetic rollers or any other services we provide, feel free to get in touch with us!