Discover the colourful world of synthetic conveyor belts
Synthetic conveyor belts are an indispensable part of modern production processes. They may seem simple, but anyone who looks closely will notice that these belts often hide a colourful secret. These colours are not just decorative accents; they reveal important properties of the belts and play a crucial role in various industries.
WHY are synthetic conveyorbelts SO COLOURFUL?



Synthetic conveyor belts are available in different colours, such as black, blue, green and white. These colours have a purpose, and they tell us a lot about the material and properties of the belt.

A striking colour like blue is often used in the food industry, and this is no mere coincidence. In fact, blue tyres have an antibacterial coating, which is essential for ensuring hygiene in food processing facilities. Moreover, no natural product has this bright blue colour, which means that even the smallest fragments of a worn tyre can be easily detected among the product. This minimises the risk of contamination of food products.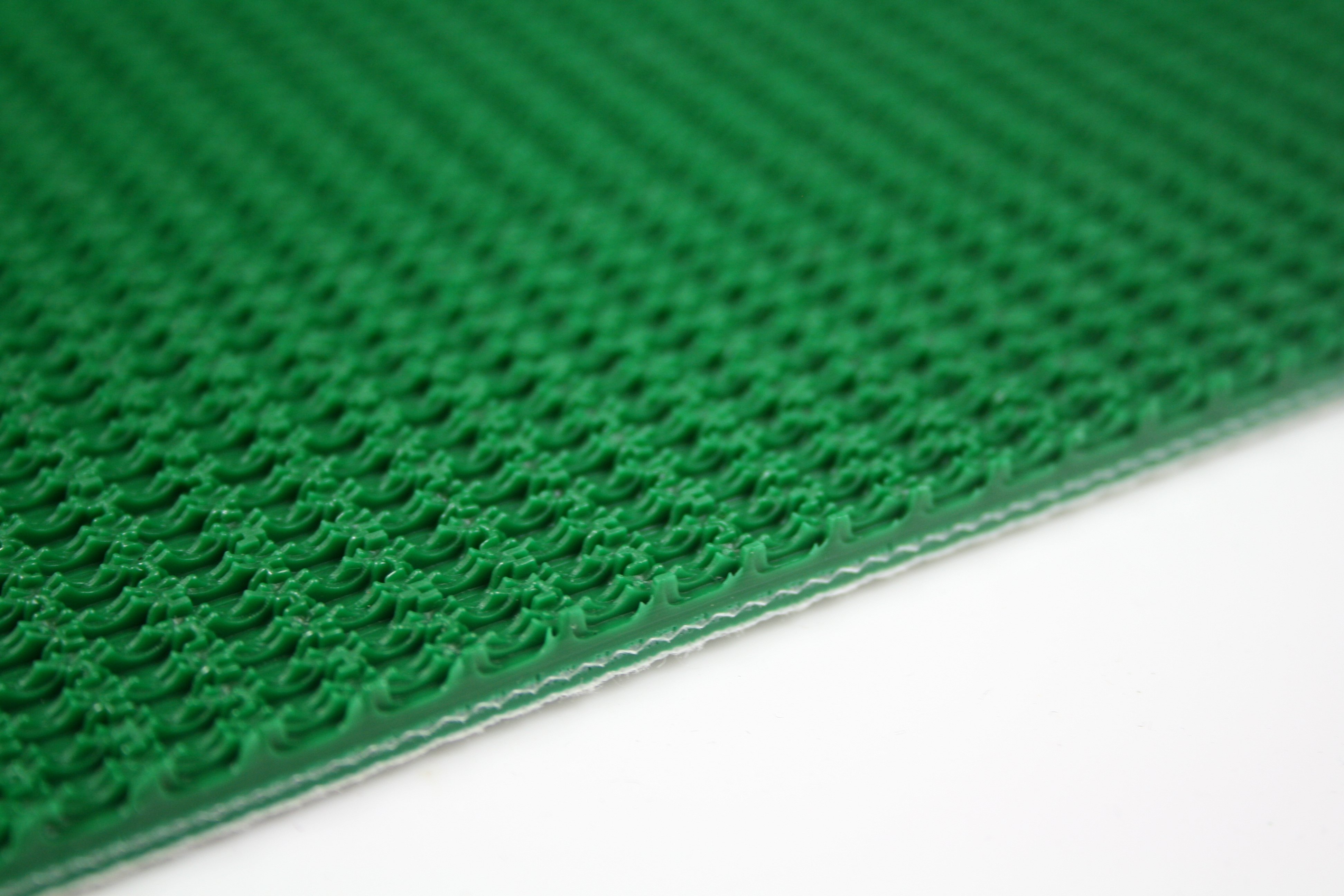 A COLOURFUL USE IN INDUSTRY
Not only in the food industry do conveyor belt colours have a function; they also play a crucial role in machine sorting. Colour cameras are often used to identify and sort products based on their colour. Here, a bright and distinctive belt colour is invaluable to ensure accurate sorting.
PROFILES AND PROPERTIES
But there is more than just colour when it comes to synthetic conveyor belts. The profiles on the belts' coatings determine their specific properties and applications. Here are some common profiles and where they are used:
Diamond profile: This profile has a non-sticky surface and light friction, making it ideal for the food industry and transporting sticky products such as confectionery or dough.

Supergrip: For high grip and friction, this profile is often used in agriculture, horticulture, recycling and material transport, as well as in general lifting and handling and box seals.

Wave profile: Provides grip and is easy to clean. It is suitable for bulk, leaf products, packaged and frozen products, and is often used in agriculture, horticulture, material transport and textile industries.

Mat profile: This profile has a non-sticky surface and prevents light reflection. It is used where products should not be damaged during transport.

Harlequin: Prevents the conveyor belt from sticking to a smooth surface and has a profiling effect. Ideal for cooling confectionery products.

Herringbone profiles: Both dense and open herringbone profiles offer grip and are used for specific applications, such as transporting moist products, fine-grained products, meat and fish processing, and even tea leaves.

Sandblast profile: Has a non-sticky surface and is suitable for transporting snacks and general storage and disposal.
These are some examples of various profiles. Download our synthetic profiles brochure for several options in profiles.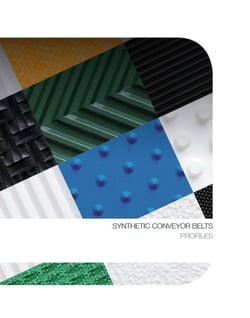 MORE THAN JUST COLOUR
Conveyor belt coatings affect not only their colour, but also various technical properties. These include fire resistance, FDA approval for food contact, resistance to oil, grease and static electricity, heat and cold resistance, low noise and abrasion resistance.
Side protection
Some applications even require closed sides on the belt to protect the fabric. In the food industry, this is very important from a hygiene point of view, as it prevents bacteria from entering the fabric and damaging it. The slightest contact with meat or vegetable juices can damage the tissue beyond repair, which can be costly for food producers who have to maintain strict hygiene standards. The sides are hermetically sealed by sealing.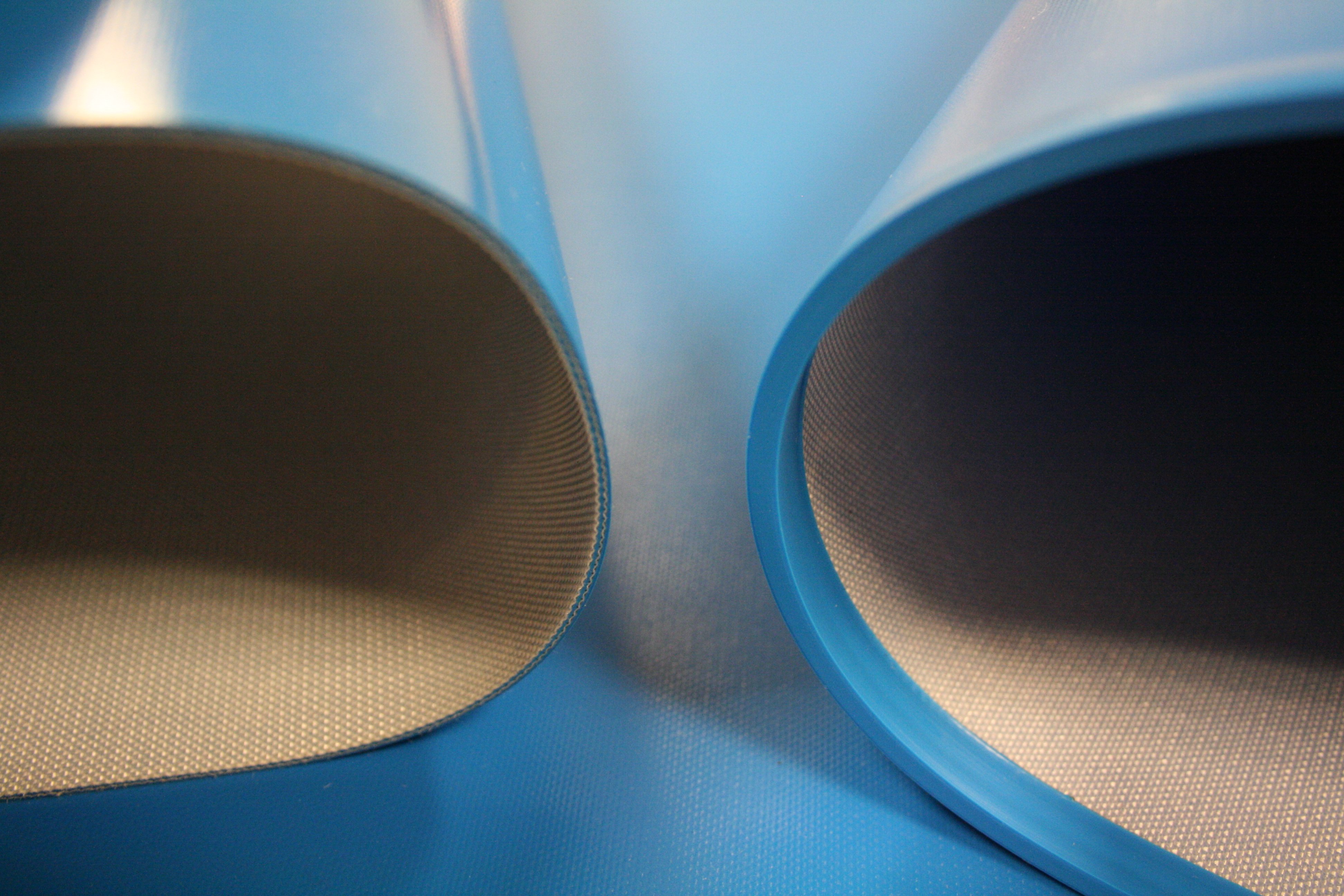 CHOOSE THE PERFECT CONVEYOR BELT
At LBS, we offer a wide range of synthetic conveyor belts with different profiles, colours and properties. Whether you want to prevent rolling and sliding of your product, avoid sticking products, accumulate or profile your product, we have the right conveyor belt for your product and installation. Our belts are designed to meet the most stringent requirements and contribute to the efficiency and quality of your production process.

Explore the world of synthetic conveyor belts and choose the colour and profiling that perfectly suits your needs. At LBS, we are ready to help you find the best solution. Contact us, our specialists are ready to assist you.